Helpful Options That Any Numerology Software Program Should Have
Comparison of different important features that can have an effect on a convenience in using each program includes: First convenience is determination if letters Y and W are consonants or vowels. There are numerological software programs that can help you to do numerology by giving you the option to define how letters W and Y are set. A very good program automatically or manually permits you to define if these two letters are consonants or vowels.
Second important feature is a possibility to format your text of report in its different parts. For example you can adjust color, type, size, italic or bold attribute. Also you can make alignment of paragraph, adjustment in Body Text, Footers, Headings, Cover Page, etc. So the more functions are included in this feature, the better your report looks.
Third feature is the comfort in choosing and maintenance of various types of report. For example when you are making a number of reports for one person you can make Yearly, Numerology or Relationship report. The perfect option is after you entered a name of the person once, it lets you to choose out of the list of reports which type you want for a person.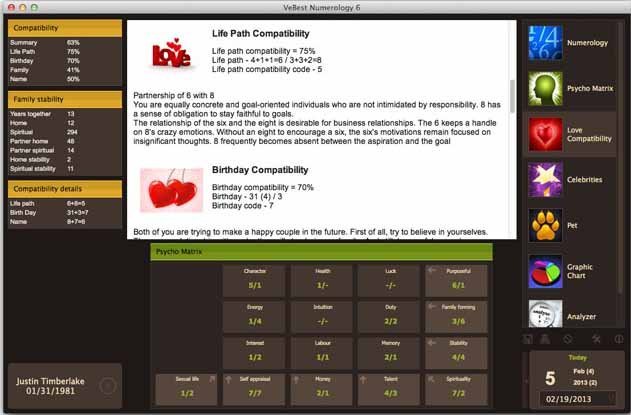 Fourth feature is an ability to save and remember the numerology birth day number and the name, together with the notes you made for each person. Only by a single click of a mouse you can save the necessary information that you need about the person, like his birth date, name, present name, etc. So, later when you will do new reports for these people, you just need to make several clicks for recovering this data.
Fifth is the variety of configuration features that even free numerology profile software can provide. Comfort in using and an ability to arrange a program. You can set a complete number of options that can help you to arrange the way of displaying and calculating reports and charts. Also you can set the best way for you to easily enter dates of birth and names. A program that has a various number of options, helps you to make charts and reports that match your own way to do numerology.